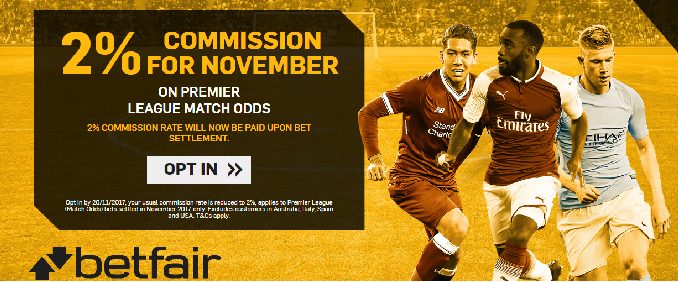 2%
COMMISSION FOR NOVEMBER
ON PREMIER LEAGUE MATCH ODDS
TERMS AND CONDITIONS
Can I take part?
This promotion is available to Betfair.com customers. Customers who have an account on Betfair.it or Betfair.es do not qualify for this offer.
Customers on fixed commission deals are not eligible for this promotion.
This promotion applies to bets placed via the Betfair Exchange only (and, for the avoidance of doubt, it is not applicable to the Betfair Sportsbook or any other Betfair product).
What do I need to do?
You must opt into the promotion between 00:00:01 GMT 01/11/2017 and 23:59:59 GMT 20/11/2017 (inclusive).
However, even unsettled bets placed on qualifying markets before you opt-in will be eligible for the reduced commission offered under this promotion.
For the avoidance of doubt, if you opt in after a market is settled, then you will not be eligible for a discount on that market.
How does it work?
You will be eligible to pay an effective 2% commission rate (as opposed to your usual higher commission rate) on all single bets which you place via the Betfair Exchange on English Premier League Match Odds football markets which settle before 23:59:59 GMT 30/11/2017.
What else do I need to know?
Bets on the Betfair Sportsbook and multiple bets do not qualify for this offer. Bets placed on markets other than Match Odds markets do not qualify either.
Betfair terms and conditions apply.