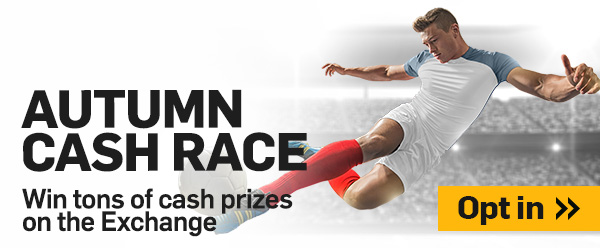 The Cash Race is back.
Win loads of huge cash prizes along the way.
How? It's easy. Earn Cash Race points by betting on the Exchange between October 19th and November 7th. You'll keep earning points the more you play – even if you don't win.
HOW DOES CASH RACE WORK?
The Cash Race is back with a Boom.
Win loads of cash prizes when you play on the Exchange.
It's easy, the more you play, the more Cash Race points you win. Keep scoring more points to hit your cash targets and win bigger cash prizes.
Throughout the Cash Race we will be offering Points Boosts on bets placed on selected sports,so be sure to visit cashrace.betfair.com for when these are available. Go on! smash your targets even quicker!
You can find your current points total and targets, along with the awesome cash prize details on this page.
You have from 00:00:00 GMT on 19/10/16 and 23:59:59 GMT on 07/11/16 to earn your cash prize.
Save cashrace.betfair.com to your favourites now so you can check on your progress. Let the race begin.
HOW ARE BETFAIR POINTS CALCULATED?!
You earn Betfair Points for every bet you place on the Exchange or Tote.
On the Exchange commission will only be taken from your winning bets, but you will be credited with an implied commission from losing bets.
To calculate how many Points you earn in a bet, follow these steps:
Multiply your commission rate (average is 5%, so 0.05) by your net winnings or losses in a market.
You earn 1 Betfair Point for every 10 pence paid in commission or implied commission
Winning Example
Losing Example
TERMS AND CONDITIONS
Can I take part?
This promotion is only available to customers whose accounts are registered in the UK, Republic of Ireland, Denmark, Portugal, Spain, Bulgaria, Italy, Belgium, Estonia, Finland, Ireland, Latvia, Lithuania, Luxembourg, Malta, Monaco, Norway, Poland, Romania, Slovakia, Sweden, Switzerland.
What do I need to do to earn my cash prize?
You must first opt into the promotion by logging in to the Champions Cash Race site.
Once you've opted in, all the Betfair Points you earn through placing Exchange and Tote bets between 00:00:00 GMT on 19/10/16 and 23:59:59 GMT on 07/11/16 (even those you might have placed before opting in) will qualify for this promotion and contribute to your progress towards a cash prize.
By opting into this promotion you are agreeing to be contacted with regards to this offer.
How do I earn Points?
You need to earn Betfair Points by betting on the Exchange and Tote between 00:00:00 GMT on 19/10/16 and 23:59:59 GMT on 07/11/16
Premium account holders are unable to take part in the Cash Race.
Bets must be settled before the end of promotion for those points to count.
You also need to ensure that you log into the promotional site during the Promotional Period at least once to ensure that you are eligible to win a cash prize.
Once you log in for the first time during the promotional period, any Points you have earned since the start of the promotional period will added to your total.
Customers who self exclude and re-join after the 17/09/2016 will not be included but will be added to future Cash Races.
Betfair Points earned on any other product except the Exchange and Tote do not count towards your Cash Race Points total. If you are using a Betfair Holiday at any point during this promotion or 30 days prior to the campaign starting, your Betfair Points will not be included.